Call today to discuss your new puppy at 314-458-4727.
Puppies born 7/16/2020 Call today to reserve your puppy.
We have 1 female and 3 males available
Click on puppy pictures below to see bigger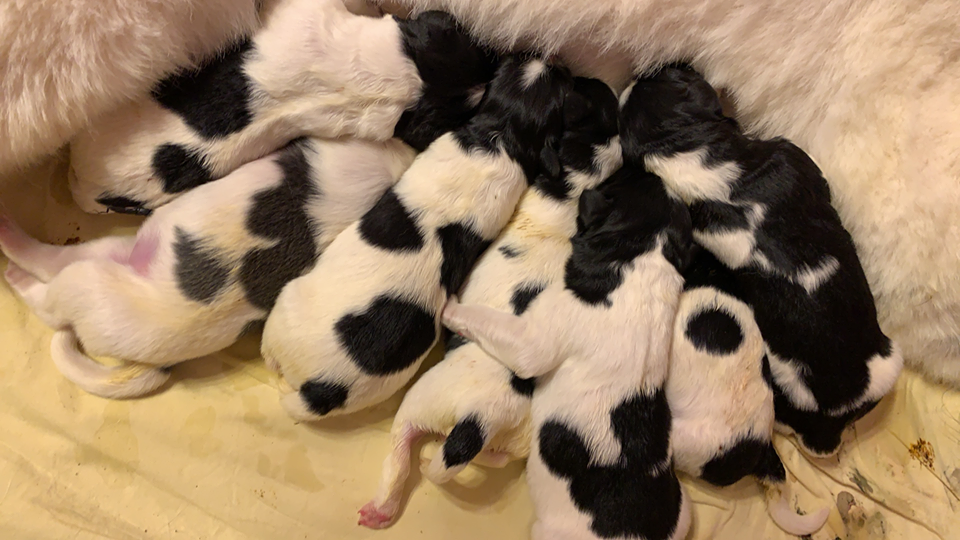 Update: Sold
Gorgeous female available out of our Championed lined
European Import Kano and Championed lined Russian Import Bali $2500.00

For Additional pictures of each puppy visit my facebook At
https://www.facebook.com/Harvestacresnewfoundlands
Brown ribbon female (Tessa and Kano) gone home to Bonnie in MD
Athos (Kano and Tessa) Blue ribbon boy gone home to Columbia
This amazing boy is sold to the Ferrari Family in CA)
(Izzy Puppy)

Izzy's Red Ribbon Male (Sold to Amanda Whitlock in IL)
Izzy White Ribbon Female (Sold to Scott & Suzanne)
Izzy's Dark Blue Male (Sold)
What can I say all of Izzy's and Steele's puppies are turning out
amazing. He loves to play and is a real sweety!
       Izzy's Light Blue Male (Sold to Dave Jones)

 Purple Ribbon Female (Sold to Josh in Chicago)
Please call for pricing on Newfoundland puppies.
Puppies come AKC Limited Registration. Full Registration may be available to approved homes at a different price.
All our puppies come with a 1 year Health Guarantee.